Callers                                                                                   
Perhaps being old is having lighted rooms
Inside your head .... Philip Larkin
Well yes, maybe I am an old fool
For there is a lighted room inside my head
Where folk I know – alive and dead – come to call.
It's like the foyer of a grand hotel,
And though I'm out of sight I watch them all.
Often it's my children, as they were when small.
Yesterday a friend I haven't seen for years,
My brother-in-law who died last spring,
And a girl I used to know quite well at school.
None of them stays long or knows they're here.
I watch them look about then hurry on.
It pleases me to think I might appear
As guest or ghost in lighted rooms elsewhere.
From Second Wind  Saltire Society Pamphlet
The Seed-Box Lantern: New & Selected Poems
is now available from Mariscat Press.
The Seed-box Lantern: New & Selected Poems,  
Mariscat Press 2013-12-12
Diana writes:  The Seed-box Lantern  contains a pick of poems from my five other collections and from about forty years of work.  All my main preoccupations are here – family, pianos, Crete, swimming, the psalms.  I want to say 'love', 'wonder' and 'mystery'.  A critic (Sally Baker) reviewing the book in The North, said 'she writes about ordinary life with warmth and wisdom'.  I'm pleased by warmth and wisdom, of course, then pondered 'ordinary life'.  It's ordinary life that is most extraordinary.
'Diana Hendry's poetry has a wonderful sense of the author's voice, dark and bitterly sweet at the same time, like high-grade chocolate.'  Janice Galloway.
Yellow Poppies
Go away for a few days and the garden's ablaze
with them – wild yellow poppies surely taller
than ever this year and spread as if to fill
every gap with a flash of joy. This must have been
happening in secret - the seeding and rooting,
the waiting until no-one's looking then this rising
and shining. Why the garden's enlightened!
Look how we outshine all that you've grown
they seem to say. Now to lie among them, eyes
half-closed, is to receive an intravenous dose
of happiness. I'm glad they're not red. Light
on the eyes and the mind they breathe the delight
of complete insignificance. How did they get here,
dressed in their best, guests at a surprise party?
As children, poppies seemed to belong to us.
We'd pry inside the small, soft green sleeves
to find the wrinkled skins – fairy airmail – folded
within. Then summer over, we'd burgle
the seed-box lantern with its screw-top lid
and send a million new poppies out on the wind.
These must be them, our dreams blown in.
From: The Seed-Box Lantern.
**********
Big Sister's Coming on a Visit
Clean whole house, polish shoes,
Here's the news –
Big Sister's coming on a visit.
Put on best dress, wait for train,
Pray no rain –
Big Sister's coming on a visit.
Book the taxis, fly the flags,
Hide the fags –
Big Sister's coming on a visit.
Buy up florist, shine the town,
Fetch the crown –
Big Sister's coming on a visit.
Big Sister's coming with big big case
Big Sister's coming with smiley face
Big Sister's coming with big big heart
Big Sister likes playing big big part.
Big Sister coming with little frightened soul
Big Sister nervous as new born foal
Big Sister coming with dodgy knee
Big Sister coming with bravery
Big Sister coming to visit me.
Switch the sun on, banish blues,
Here's the news –
Big Sister's coming on a visit.
from Late Love & Other Whodunnits.
Poetry Collections
Making Blue, Peterloo Poets, 1995
"...the fresh eye that shines in her children's novels ...is even more alert in these heart-searching for grown-up."
William Scammell, The Independent on Sunday.
Borderers, Peterloo Poets, 2001
"Hendry's poems are a vibrant collections, as vivid and various as a room full of Picassos."
Sylvia Hill.
Twelve Lilts, Psalms & Responses, Mariscat Press 2003
"...a warmth and sense of deep affection in every line and also a liveliness, which she sought so avidly to transfer from Waddell's fervent Scots."
Kristina Gotz, Chapman.
Sparks! (with Tom Pow), Mariscat Press 2005
"The record of a creative correspondence between two friends – the result is a collection of twenty-four poems that also act as a creative writing source book."
Late Love and Other Whodunnits,
Peterloo/Mariscat Press, 2008
"Someone once defined Diana Hendry's particular gifts as an ability to 'see the otherness of the very ordinary' and if you add that she has a sly sense of humour, that gets it about right." Robert Nye.
Other work:
Diana has written the libretto for The Pied Piper, a new composition by Edinburgh composer John Mortimer
For children
No Homework Tomorrow,
Glowworm Books 2003
"...the kind of looking which will not only raise awareness but inform children's own writing.'  Jill Pirrie, TES
Poems United:
A Commonwealth Anthology, (As editor with Hamish Whyte) Scottish Poetry Library and Black & White Publishing, 2007
"... a superb resource for teaching any age group about poetry and other cultures." TES
Shortlisted for the CLPE Award
(All Diana's poetry books are available from
Mariscat Press. Click on the name or see the link.)
Anthologies
Diana is represented in A Shame to Miss (Corgi); Kin (Polygon & SPL); New Writing Scotland 26 (ASLS) 100 Favourite Scottish Poems (Luath), 100 Favourite Scottish Love Poems, (Luath); Read Me (Macmillan) Swings & Shadows (Julia MacRae Books); The Poetry Book Society Anthology 3; The Thing That Matters Most; (Scottish Poetry Library); The Works 5 (Macmillan); The Young Oxford Book of Poems (OUP) and many others.
Magazines & Journals
Poems by Diana have appeared in the following magazines and journals:
Ambit, Bananas, Chapman, Causeway/Cabhsair, Chapman, Critical Survey, Critical Quarterly, The Dark Horse, Encounter, Envoi, Gaelforce, The Guardian, The Herald, The London Magazine, Mandeville Press, New Poetry, Nonesuch, The North, Markings, Mslexia, Odyssey, Prospice, Poetry Chicago, Poetry Matters, Poetry Review, The Spectator, Smiths Knoll, The Sunday Independent, Thumbscrew, Writing Women.
Awards for poetry
First prize Housman Society Poetry Competition, 1994
Robert Louis Stevenson Fellowship (with Hamish Whyte) 2007
A poem by Diana has been chosen for the Scottish Poetry Library's list of best Scottish poems in 2006, 2009, 2013 and 2014
ADULT FICTION
Short Stories
Many of Diana's stories have been published in magazines and anthologies and read on BBC Radio 4.
Forthcoming:
A collection of Diana's stories, My Father as an Ant & Other Stories is to be published by Red Squirrel in April 2017.
Anthologised Stories include:
Afternoon Tea; 2.5 is the Norm; The Spit Stealer; Mrs. McCoy and Moses; The Novel, Novel Paper; Just Breathing; The Trio and My Father as an Ant; Somebody Palmer. The Scattering.
Broadcast Stories include:
The Lady of the Sea; The Proposal; Female Company; The Noisiness of Sheep; Somebody Smith; My Father as an Ant; After the Snow Queen; and The Sweet Possessive.
Second Wind
A poetry pamphlet with poems by me, Douglas Dunn and Vicki Feaver and published by The Saltire Society, was launched last winter. We're all going to be reading from it at a couple of Saltire events this autumn.
Here's one of the poems from the pamphlet.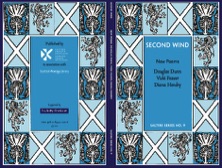 Out of the Clouds, The story of a family living in a house high above the sea
and of the search, by Oliver, to find his father.
Coming in May 2016
A poetry pamphlet entitled 'Second Wind', on the theme of ageing is now available.
'The Seeing' is on The Sunday Times list of a 100 Children's Modern Classics
The Seed-box Lantern: New & Selected Poems, now available from Mariscat Press