Out of the Clouds, The story of a family living in a house high above the sea
and of the search, by Oliver, to find his father.
Coming in May 2016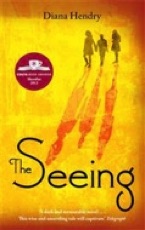 Diana Hendry was born in the Wirral and grew up by the sea.  She did very badly at school – falling in love at 13 being rather a distraction – and spent a long time catching up, which included becoming a mature student at Bristol University and later studying for an M.Litt.
Primarily a poet, Diana also writes short stories and is the author of many children's books. She's worked as a journalist, English teacher and a tutor at the University of Bristol,  University of the West of England and the Open University. She has tutored many creative writing courses for the Arvon Foundation and for a year was writer-in-residence at Dumfries & Galloway Royal Infirmary.
She is a honorary member of Shore Poets, Edinburgh, and from 2008–2010 she was a Royal Literary Fund Fellow based at Edinburgh University. Currently she is co-editor (with Gerry Camridge) of New Writing Scotland. She writes the occasional book review for The Spectator.
Diary Notes: Spring 2016
The first copies of my junior novel, Out of the Clouds, have just arrived. I'm pleased with the cover. And very pleased that I've finished writing the sequel which is to be called Whoever You Are. I've become quite fond of the characters - the Coggins family - and their strange, sea-battered house high up on the cliffs.
So now I'm going back to poems with the hope of writing new ones and putting together another collection.
As assistant editor of Mariscat Press we're very pleased to have recently published a pamphlet of poems by Jackie Kay who has just become Scotland's Makar (or poet laureate).
For the second year, I've been co-editing New Writing Scotland with Gerry Cambridge. We had 400 submissions so that meant a lot of reading. Next year, (my last) I'll be co-editing with Susie Maguire.
I've become obsessed with the short stories of Anton Chekhov. For most of my life I've had obsessions with one writer or another. Many years ago it was Charles Morgan. Then it was Isak Dinesen, then Joyce Cary and now Chekhov. Of poets, Seamus Heaney is the one I love most.
The psychologist D.W. Winnacott once wrote that in most writers there is a conflict between two needs,
'the urgent desire to communicate
and the still more urgent need not to be found.'

That's me! But you'll find something of me here.
Welcome.

A poetry pamphlet entitled 'Second Wind', on the theme of ageing is now available.

'The Seeing' is on The Sunday Times list of a 100 Children's Modern Classics
The Seed-box Lantern: New & Selected Poems, now available from Mariscat Press